Summary
The Canadian constitution defined Indians as falling under federal jurisdiction whereas health and family services was provincial jurisdiction. This led to conflicts over who would provide services (and pay for those services) for Indigenous youth and families. The two levels of government resolved this (without consulting Indigenous people) by deciding that provinces would "care" for Indigenous youth in crisis by apprehending them and integrating them into non-Indigenous child and family service programs.  The result is what came to be known as the "Sixties Scoop" where Indigenous children were "scooped" up and adopted into predominantly non-Indigenous, middle-class families. Despite its name, "Scooping" Indigenous children from their families and communities was not isolated to the 1960s; it extended both before and after the 60s in various forms, some which continue today, and is evident in the disproportionately high rates of Indigenous children caught within the Child Welfare System. 
"It is well-known that Indigenous children are over-represented in both the child protection and justice systems in Saskatchewan and across Canada. Year after year, the deaths and injuries we review are a stark reminder of this dark reality. In 2021, 22 of the 24 deaths (92%) and 23 of the 29 critical injuries/incidents (79%) that came to our attention involved Indigenous children and youth." (Saskatchewan Advocate for Children and Youth, 2021 Annual Report, 34).
---
 As of 2019, Saskatchewan Social Services Ministry reported that 86% of children in care are Indigenous (Global News). Statistics Canada reported that in 2016, Indigenous peoples represented 16.3% of Saskatchewan's total population (Statistics Canada, Focus on Geography Series, 2016). This demonstrates the wide disparity between rates of Indigenous children in care compared to total population. 
---
The Sixties Scoop experience left many adoptees with a lost sense of cultural identity. The physical and emotional separation from their birth families continues to affect adult adoptees and Indigenous communities to this day.
In Saskatchewan, particularly in the Northern region of the province, Indigenous children were taken or 'scooped' from their communities and relocated generally to non-Indigenous families in settled regions of the province. Through the provincial CCF party (the pre-cursor to the NDP), the scooping and relocation of Indigenous children from their home communities partially occurred because foster homes in the north were deemed incapable of meeting capacity. But of course scooping Indigenous children from their home communities created a social and cultural disconnect that contributed to their assimilation into "Canadian" society, and this was the long-term goal of the Canadian and provincial governments.  Scooping children contributed to assimilation by disconnecting Indigenous youth from their ancestral lands, resources, and livelihoods. Many Indigenous children who were scooped at birth or an early age were not told of their relocation or Indigenous kinship by their adoptive guardians, and only found out later in life.     
---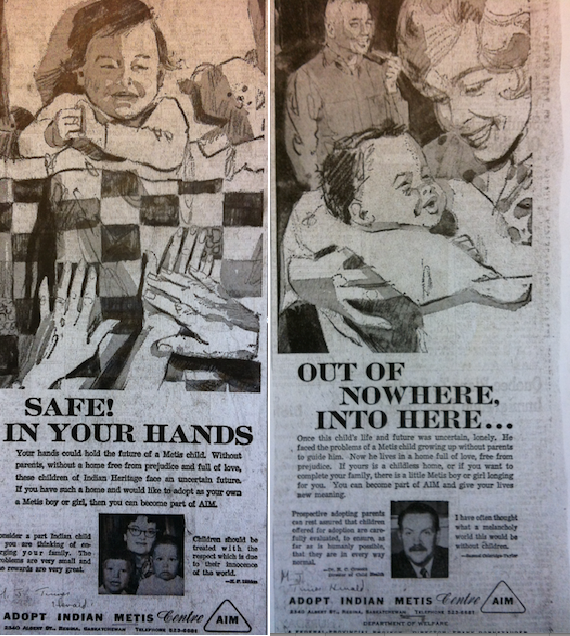 Newspaper advertisements for the Adopt Indian and Métis Program, late 1960s, Saskatchewan.
---
The scooping of Indigenous children dislocated them from their families, communities, and access to culture/culturally relevant upbringing.  It's important to remember that during the 60s Scoop period Residential Schools were still operating. – Indigenous peoples were continually at risk of violence from early childhood, through their entire adolescent life, and into adulthood as well. For children who were separated from their families in the north sent to southern communities, and Indigenous children from across Canada, there was and often is a sense of cultural disconnect and an inability to find belonging meaningfully both inside and outside of their home communities.
Indigenous parents and their children continue to report 'scooping' through child welfare services with further placement into the foster system. For example, scooping through the practice of 'birth alerts' wherein hospital staff alerts child welfare services if they deem the child 'at risk' from their parents. Parents are not informed of the action nor provide consent for birth alerts. Birth alerts have historically and contemporarily targeted Indigenous mothers who are characterized as unfit or disengaged from their child despite no evidence. They allowed hospital staff to have final authority over who is 'fit' to parent a child, and these decisions are often informed by racist and classist assumptions and racial stereotypes.      
---
See Also: